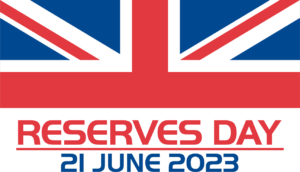 Reservists give up their spare time to serve in the Reserve Forces, balancing their civilian life with a military career to ensure that should their country require them, they would be ready to serve as part of the military.
The Reserve Forces make up approximately one sixth of our Armed Forces personnel and as such are integral to protecting the nation's security at home and overseas, particularly providing capability in specialist areas such as medical and cyber.
Lance Corporal Shepard Reserves Day video transcript
Reservists are currently supporting operations worldwide.
However, the contribution they make to our Armed Forces often goes unrecognised. As such an annual Reserves Day was created to highlight and recognise the valuable contribution Reservists make to our Armed Forces.
In 2023, Reserves Day is being celebrated on Wednesday 21 June.
Celebrating Reserves Day
Reservists are everywhere, but you might not know it. So on Reserves Day, our Reservists wear their uniform in their civilian life – here are some from the last few years! Keep an eye out for them this year.
We're asking employers to thank our Reservists across the UK for their dedication, professionalism and commitment to serving our country. Whether you are a large organisation, small business, charity or self-employed, show your support on 21 June by holding a workplace talk, organising an event or just publicly showing your support to celebrate Reserves Day. Look at our toolkits for more suggestions. 
Meet some Reservists
Louise Tunnicliff, Army Reservist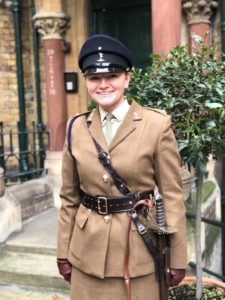 In my day job I'm a Civil Servant, completing my final year of the Fast Stream in the Department for International Trade. In my spare time I am also an officer in the Army Reserves serving with 68 (Inns of Court and City Yeomanry) Signal Squadron, 71 (City of London) Yeomanry Signal Regiment based in Central London.
When it became clear just how extensive the effect of the COVID-19 pandemic would be across the country, the Army decided to mobilise certain Reserve elements and my Regiment quickly released a call for individuals who were not considered key workers and who would like to volunteer to mobilise.
At the same time, the Civil Service were also asking for volunteers to support COVID efforts across Government departments, and I found myself in a position to able to choose to serve in either role. Aware of the pressures the NHS is under and having close friends who are doctors tackling the virus every day, I decided to take a hands-on, more practical approach to the situation and use my military training in whatever capacity was needed.
Following a quick turnaround, I was formally mobilised at the start of April to command a troop of 27 Reserve soldiers from across my Regiment to support 1 Signal Regiments efforts in the West Midlands area. This has been an extremely interesting experience and required me to adapt my leadership approach to the complexities of having to come together as a group of individuals from different squadrons, get to know each other and organise ourselves all via virtual platforms.
The speed and efficiency we've been able to accomplish this in is a testament to the patience, situational awareness and additional skills the troops brought from their civilian roles. As a result of this rapid effort, we have been able to deploy various individuals to tasks, training colleagues from across the Army how to administer COVID-19 testing at Mobile Testing Units across the country.
It has been phenomenal to witness the determination and spirit of people coming together from across society and all walks of life to help the most vulnerable, those affected by the virus and their families.
Ross Ewing, Royal Navy Reservist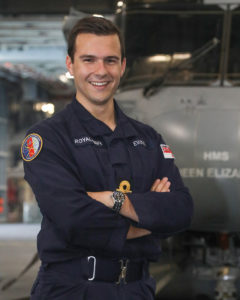 I joined the Royal Naval Reserve in my first year at the University of St Andrews, having previously been a member of the RAF Air Cadets. The RNR was a fantastic way to do something different while studying at university. It gave me the opportunity to travel, train, stay fit, acquire valuable skills and earn money all in one go. I am extremely proud to serve in the Royal Navy part-time.
I am currently mobilised as a submarine advisory team (SAT) watchkeeper aboard HMS Queen Elizabeth. My main role is to facilitate the safe and effective operation of a submarine in support of the UK Carrier Strike Group (UKCSG).
For me the best thing about the Reserves is the range of diverse opportunities on offer. In my short career I have supported national exercises involving submarines, delivered training to new recruits, travelled to France, Gibraltar and Belgium and been mobilised in support of the UK Carrier Strike Group. I have also developed my leadership and management skills and am now responsible for the delivery of initial naval training at HMS Scotia.
Being a Reservist has been vital in developing my verbal and written communication skills – both of which are essential in my civilian role as a communications professional. My experience of delivering command briefs to senior officers has really increased my capacity to speak publicly and provide verbal evidence to parliamentary committees. Similarly, my written communication has become much more concise and effective as a result of my training.
I became an officer at the age of 18, and I think one of the biggest challenges for me was proving that – despite my age – I could be an effective leader and team player. I have learned a huge amount about people management since becoming a Navy officer, and I now find it far easier to work constructively and effectively.
I would encourage anyone interested in joining the Reserves to kick-start their application and get involved. The more you put in, the more you get out.
Interested in finding out more about Reserves?