Reservists give up their spare time to serve in the Reserve Forces, balancing their civilian life with a military career to ensure that should their country require them, they would be ready to serve as part of the military.
The Reserve Forces make up approximately one sixth of our Armed Forces personnel and as such are integral to protecting the nation's security at home and overseas, particularly providing capability in specialist areas such as medical and cyber.
Reservists are currently supporting operations worldwide.
However, the contribution they make to our Armed Forces often goes unrecognised. As such an annual Reserves Day was created to highlight and recognise the valuable contribution Reservists make to our Armed Forces.
In 2020, Reserves Day is being celebrated on Wednesday 24 June.
Celebrating Reserves Day
Reservists are everywhere, but you might not know it. So on Reserves Day, our Reservists wear their uniform in their civilian life – here are some from the last few years! Keep an eye out for them this year.
We're asking employers to thank our Reservists across the UK for their dedication, professionalism and commitment to serving our country. Whether you are a large organisation, small business, charity or self-employed, show your support on 24 June by holding a workplace talk, organising an event or just publicly showing your support to celebrate Reserves Day. Look at our toolkits for more suggestions. 
Meet some Reservists
Lee Jackson, RAF Reservist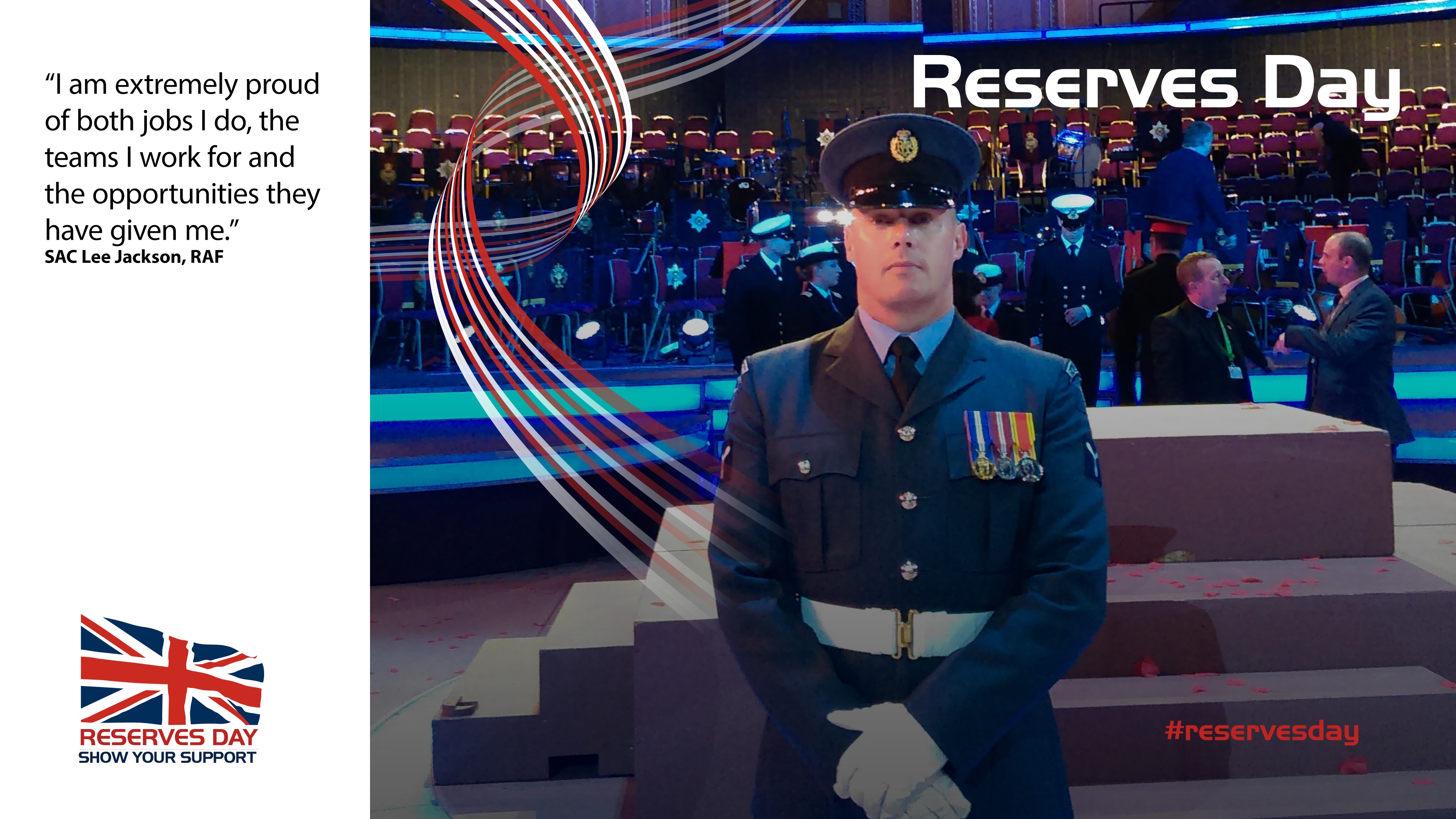 I joined the Fire Service in 1993 and have attended many incidents, gaining a vast amount of operational experience and range of qualifications throughout my career. I currently hold the rank of Watch Manager, in charge of the blue watch at Ilford Fire Station in east London.
I am responsible for incident command, team management, training and development, creating partnerships and educating the public and businesses within the community.
I joined the RAF Regiment Reserve six years ago. I wanted a new challenge, a release from work, and felt my life experience and the skills I have learnt in the Fire Service could be used within the various situations the regiment finds itself in today.
I am currently a TRIM (Trauma Risk Management) Team Leader, training to become a TRIM instructor for the RAF. I have deployed on operations to the Middle East and exercises within the same region, flown in a Typhoon, as well as working closely with my regular counterparts on many occasions.
Both vocations benefit from the skill sets I have learnt in the other. Being a reservist makes me a better leader within the Fire Service; likewise my role as a watch manager helps me aid and develop the new Gunners within our squadron. Both jobs humble me and make me realise what I have in my life, and how bad the world really can be.
I am also a resettlement point of contact for regular service personnel wishing to pursue a career within the Fire Service when they leave. This is something I have set up locally with regular squadrons I work with, and is my way of giving something back to the service.
I am extremely proud of both jobs I do, the teams I work for and the opportunities they have given me, developing me as a person, a Dad and employee, but none of this would be achievable without the support of my family and the London Fire Brigade, to which I am truly grateful.
Saroj Thapa, Army Reservist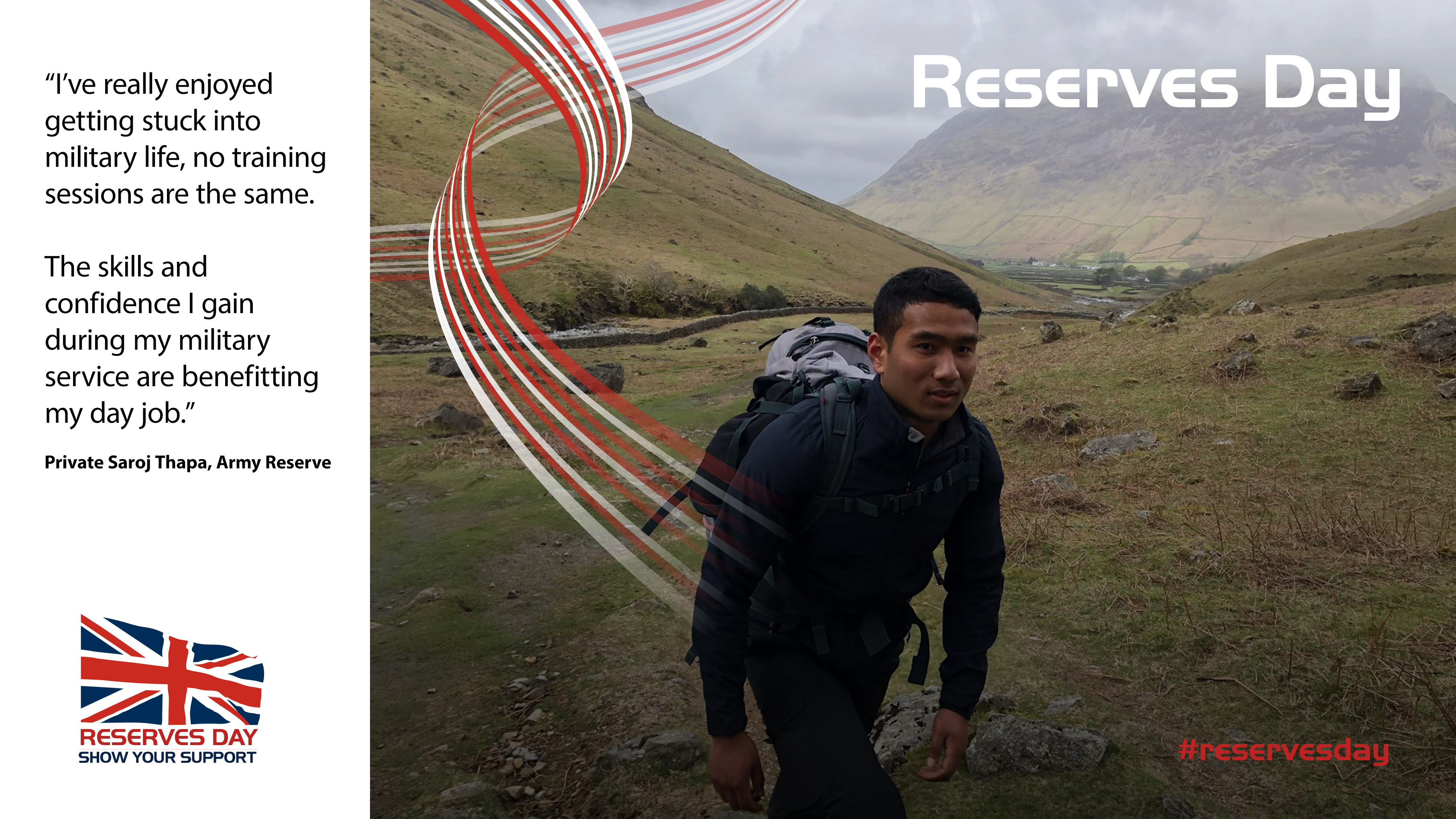 Saroj, 24, works as an office manager for a company in Swindon.  As part of his job he places orders, lists items online, trains new members of staff and maintains several accounts.  His role in the Army Reserve with 280 (Movement Control) Squadron Royal Logistic Corps couldn't be any more different.
'Since joining the Reserves in December 2016, I have been developing the knowledge to move the Army's personnel, vehicles, freight and weapons around the world by road, rail, sea, and air as part of my role as a junior Movements Operator.  It's been a brilliant way to have two career paths that complement each other – the time management, teamwork, organisational and communication skills that I learn with the military are transferrable to my full-time civilian job.'
'I've really enjoyed getting stuck into military life and taking advantage of so many opportunities open to Reservists.  No training sessions, whether on a Tuesday evening or weekend, are the same.  The sense camaraderie and togetherness created in the unit in Swindon makes my time in the Reserves thoroughly enjoyable and memorable.'
'My highlights in 2018 were qualifying as a military Physical Training Instructor (PTI), climbing the 25 highest peaks in Lake District to mark the 25th anniversary of the formation of the Royal Logistic Corps and competing in a military skills competition.'
'I've always enjoyed keeping fit, so I jumped at the opportunity to attend a PTI course.  As a qualified PTI, I now take weekly physical training sessions in the Army Reserves Centre in Swindon and help maintain my unit's cardio-vascular and endurance fitness levels.  This in turn, has given me the confidence to talk in front of large groups and be in-charge of colleagues despite my junior status.'
'One of my proudest moments was representing my Regiment in a military skills competition.  Although my fitness wasn't a problem, I had to work hard improving my military knowledge and shooting skills on the rifle range.  An experience that has helped bring on my leadership and problem-solving abilities and made me think about applying to commission as an Officer at some point in the future.'
'Getting involved in the Reserves isn't difficult.  My employer is very supportive and recognises the skills and confidence I gain during my military service is benefitting my civilian employment.  I would say anyone who can give up some of their spare time to do something exciting, just go for it like I did, and you will not regret it.'
Tom Clarke, Royal Naval Reservist
Life as a Royal Navy Reservist has given Tom Clarke access to sights, places and wildlife that few get to see, and he's also helping to clean up the environment.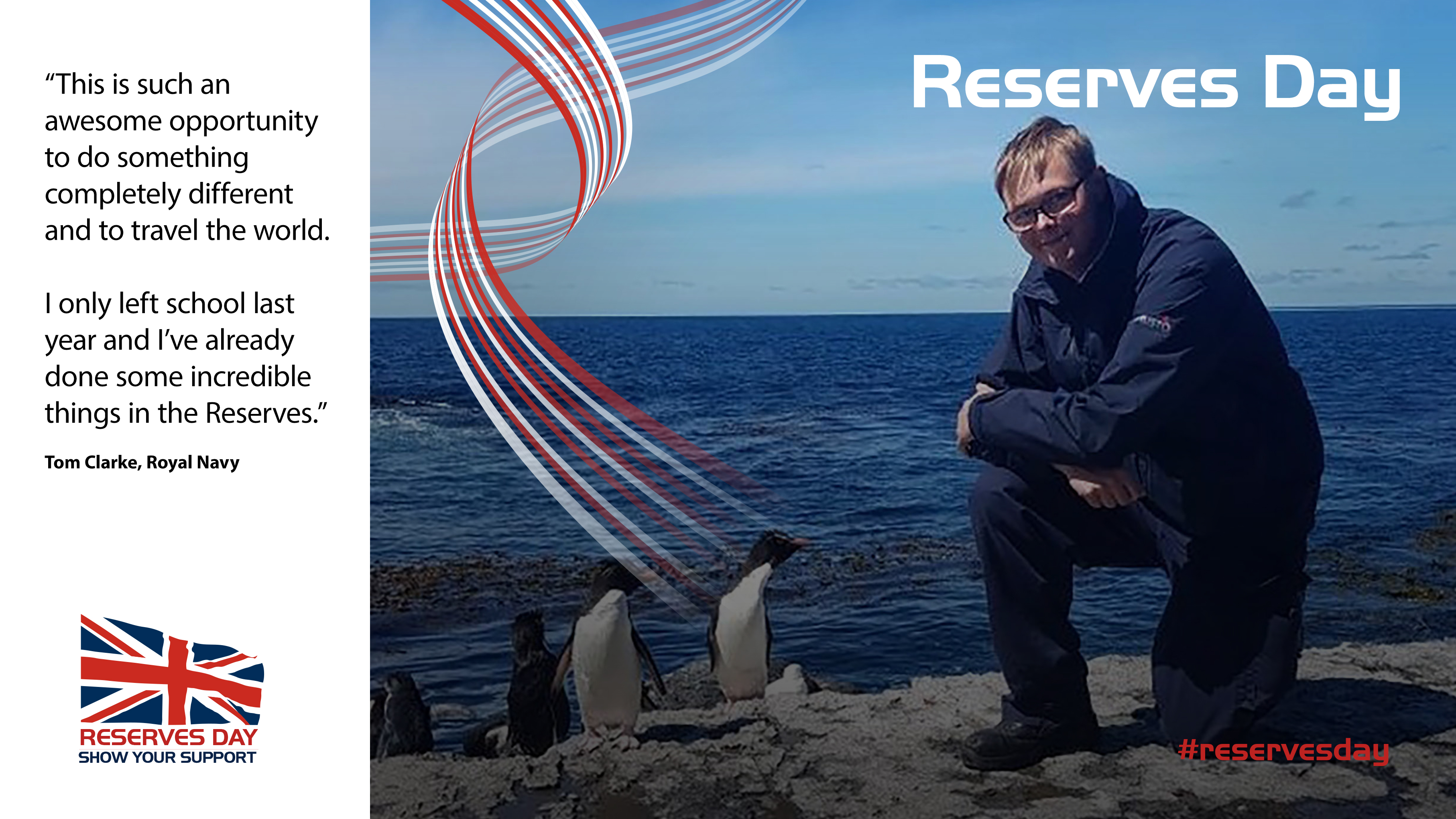 Currently serving as a seamanship specialist on board HMS Clyde as it patrols the seas around the Falkland Islands Tom Clarke trained as a Reservist HMS Eaglet in Merseyside.
Pictured above enjoying a day off with the penguins on the island of South Georgia, he says:
"This is such an awesome opportunity to do something completely different and to travel the world. I only left school last year and I've already done some incredible things in the Reserves."
When aboard HMS Clyde, Tom drives the ship as Quartermaster, maintains sea survival equipment, and provides security on the gangway as part of the ship's protection force.
He also performs environmental tasks ashore, such as cleaning up plastic and debris from the Falkland Islands' beaches. This allows him to get up close and personal with the unique wildlife.
"I've had the opportunity to go ashore and see some amazing settlements, four different types of penguins, and loads of other marine life. I've also been on exercises in the field with the Army, and made some amazing friends."
Interested in finding out more about Reserves?