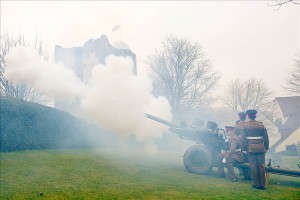 Today (Thursday) marks exactly 100 days until Armed Forces Day 2015, taking place on Saturday 27 June!
This year's Armed Forces Day national event is in Guildford, and event organisers have announced a spectacular programme of activities for military personnel and their families, veterans and members of the public to make this a truly memorable occasion that the whole family can enjoy.
To start the 100 day countdown today two Royal Artillery 105mm Light Guns fired off a salute in front of Guildford Castle at 11:30, the exact time an impressive parade will start on Armed Forces Day on 27 June.
The Mayor of Guildford, Councillor David Elms, said:
We are extremely proud that Guildford has been chosen to host the Armed Forces Day national event for the UK this year. This wonderful celebration, the highlight of 2015, will give us all a fantastic opportunity to show our support and appreciation for our Armed Forces and the sacrifices they make.
It is going to be a memorable day, worthy of leading the nation in honouring our Armed Forces. We expect to welcome tens of thousands of local people and visitors to this special day.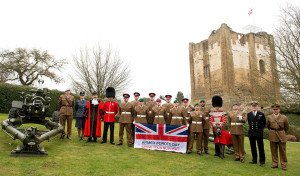 Kicking off festivities at the national event will be a special service at Guildford Cathedral, followed by the parade which will feature tri-Service personnel, supported by bands, veterans and cadets forces, marching up Guildford's historic cobbled High Street to the events field at Stoke Park.
Stoke Park will be buzzing with family fun with open air performances from a variety of musicians and entertainers throughout the afternoon and early evening.
Exciting military demonstrations will include a Royal Marines band, the Royal Signals White Helmets Motorcycle display team, a demonstration of an infantry combat battle by 3rd Battalion The Princess of Wales's Royal Regiment and the Royal Air Force Queen's Colour Squadron drill display team.
As well as these activities, visitors will be treated to a parachute drop from the Raiders – the Royal Navy Parachute Display Team, and drawing a close to the memorable day will be an impressive flypast of current and historic aircraft in the skies above Guildford. It promises to be a thrilling spectacle.
The lead up to Armed Forces Day will also see a special day to celebrate our Reserve Forces on Wednesday 24 June. The day will provide an opportunity for all areas of society to recognise and pay tribute to all our volunteers.
Further detail of the national event programme will be added to Guildford Council's website and here.
The national event in Guildford is just one of many Armed Forces Day events taking place across the UK. To find an event near you visit the events listing page.
Event organisers can also apply for funding to hold an event. The deadline to apply is 27 March, so if you are considering putting on an event there's no time to waste! And don't forget to list it on our events page.
Local people in Guildford explain why supporting Armed Forces Day is important to them: