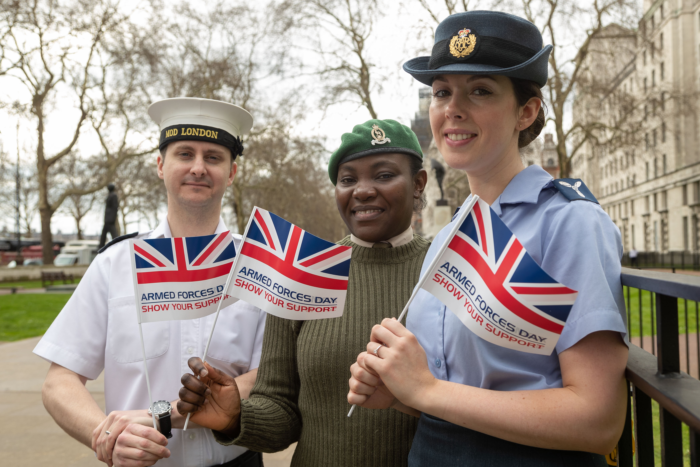 Armed Forces Day 2019 is taking place across the country in just 100 days' time with preparations underway for Saturday 29 June.
Now in its eleventh year, Armed Forces Day is an opportunity for the nation to say thank you to our Servicemen and women, past and present, for their readiness to serve and protect the UK and its interests both at home and abroad.
It is also an opportunity to show gratitude to the wider Armed Forces community for their commitment and sacrifice including cadets, veterans and service families.
This year the Armed Forces Day national event will be hosted by the city of Salisbury, Wiltshire, which shares close historical links with the military.
This milestone follows the announcement earlier in the month that the decontamination of Salisbury and Amesbury is now complete after a nerve agent was used on the streets of the city. The Armed Forces played a crucial role in the unprecedented clean-up operation alongside emergency service workers, other government departments and council staff.
An exciting programme of events organised by Wiltshire Council including military parades and fly-pasts will celebrate the Armed Forces and thank them for their tireless support toward the city's recovery following last year's Novichok attacks.
Salisbury has many current and historic links to the Armed Forces and is home to several Army bases, where many Salisburians serve, including Bulford Camp, Tidworth Camp and Salisbury Plain, one of the UK's biggest military training areas.
Alongside the national event, hundreds of events will also be held across the UK with cities, towns, villages and communities hosting everything from street parties to parades and BBQs to tea dances.
Defence Secretary, Gavin Williamson said: 
I'm thrilled that the Armed Forces Day national event will take place in Salisbury this year in just 100 days' time. The urgent, expert response of the Armed Forces to the Salisbury attack is just one reason why we're all so grateful for their service.

Armed Forces Day is an annual celebration of the very special relationship between members of our Armed Forces and the people they serve. Communities across the UK will come together to thank the Armed Forces for their dedication, expertise and excellence. I encourage everyone to get involved this year and show their support.