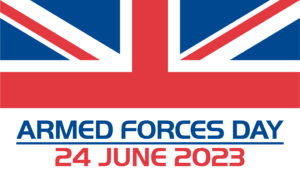 With only a few days to go until the Armed Forces Day 2023 National Event takes place in Falmouth on Saturday 24th June, we heard from Cornwall Councillor and Armed Forces veteran Louis Gardner. He shared his insights on what to expect from the hosts of this year's National Event and outlined what the Armed Forces mean to him:
Can you tell us more about your role in Cornwall Council?
I'm Councillor Louis Gardner. I'm a former member of the Armed Forces and a current member of the Economy portfolio for Cornwall Council. I feel particularly passionate about Armed Forces Day and the National Event, which is being hosted by Falmouth, not only because I'm a veteran but because I was personally involved in the bid to bring it to the county.
In your opinion, why is Armed Forces Day important?
I believe it's vitally important that the nation continues to recognise the work of our Armed Forces and all they do to keep us safe.
What does it mean to Cornwall to be hosting Armed Forces Day this year?
I'm particularly proud that this significant national event will be hosted in Falmouth and therefore, Cornwall for the first time ever.
Can you tell us about Cornwall's links to the UK Armed Forces?
Cornwall has always had strong links with the Armed Forces and retains them to this day. It is home to three military bases, numerous Reserves Units and Cadets Forces, and supporting organisations. We also have a large veteran community and Cornwall is also home to 39,000 veterans. We carried out a recent survey of Cornish based residents which showed that 1 in 5 people have a personal or family connection to the Armed Forces.
Can you tell us what we can expect in Falmouth for this year's Armed Forces Day event?
Visitors can expect to see 'Top Gun' style stunts from military aerial displays and, of course, the traditional parade. There's also a chance to see a range of military vehicles up close in the military village a
nd to learn more about the role of each of our Armed Services. The whole event is free and includes a tour of a naval ship if you book using the website.
Are you excited?
Absolutely! This is a first for the county and a key part of our mission is creating a successful and sustainable event, partnering with a diverse and wide range of organisations who share our mission.
Is there anything else people should know about the upcoming event?
This promises to be a great event so book your accommodation early to avoid disappointment. We're particularly grateful to Bear Grylls OBE for lending his support to Cornwall's promotional campaign.
On Saturday the 24th, communities across the UK will come together to celebrate the Armed Forces and all that they do in keeping the nation safe.
Armed Forces Day will recognise the work that members of the Royal Navy, British Army, and Royal Air Force, as well as Veterans, Cadets and Armed Forces families, all play in keeping the UK safe, at home and abroad.
To find out more about Armed Forces Day and events visit here: Armed Forces Day – 24 June 2023