If you head down to Guildford on Saturday you're in for an Armed Forces Day surprise! Around 60,000 people will take part in a fun day of military displays, live music and entertainment. As Matt Furniss, Lead Councillor for Armed Forces Day, said: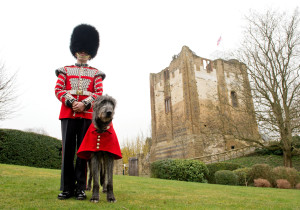 "The Royal Navy, Army and Royal Air Force have pulled out all the stops to ensure the National Event for 2015 will be an Armed Forces Day to remember."
There's plenty going on in Guildford but here are the 3 things you absolutely cannot miss at the Armed Forces Day National Event:
The Parade
The parade begins at 11.30am from the bottom of Guildford High Street. 900 strong, the parade will be made up of representatives from the Royal Navy, the British Army – represented by 3rd Battalion The Princess of Wales's Royal Regiment who holds the Freedom of the Borough of Guildford – and the Royal Air Force. Tri-Service Cadet Forces and veterans will join them as they parade up the High Street.
At Tunsgate Arch (the midway point along the High Street) the guest of honour, HRH the Duke of York, will take the salute from the parade. At the same time the world-famous Royal Air Force Aerobatic Team, the Red Arrows will roar overhead!
The parade will then head through the town towards Stoke Park where the Armed Forces Day fun will continue!
The Military Displays
After the parade festivities get under way in Stoke Park at 1pm with a flypast of Royal Air Force Tornado GR4s leading the way. The flypast will be followed by an afternoon of action packed fun with the likes of the Royal Signals White Helmets Motorbike Display Team, the Household Cavalry Musical Ride and parachute display teams from the three Services. Get ready to be wowed!
Live Music
Guildford event organisers have planned a day of music starting from 10.30am. You can listen to the Military Wives Choir of local Garrison town, Aldershot and watch sets from a variety of performers! There's something for everyone.
All of the above is completely free. No tickets are needed to watch the parade or to enter the Stoke Park event! For more information on the National Event, including travel advice, please visit Guildford Council's website or head to the National Event page.