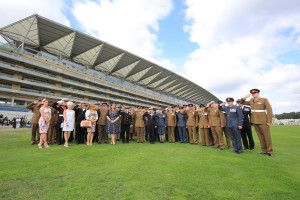 Armed Forces personnel from all three services enjoyed a day at the races yesterday when they and their families were welcomed to the Berkshire racecourse for Royal Ascot's very own Armed Forces Day.
Royal Ascot offered discounted tickets to military personnel and volunteers from the Royal Navy, Army and Royal Air Force supported Ascot's racecourse staff as stewards.
Tens of thousands went in their finest to watch the day's events, and the military volunteers met some of the stars of the day including legendary jockey Frankie Detorri and Channel 4's fashion commentator Gok Wan.
Once the volunteer stewards finished their duties, they and their guests could make the most of the racing and the unique atmosphere of this great British occasion.  Other race-goers and the bookies enjoyed the military flavour of the day too, showing their support for the Armed Forces with salutes and cheers.
This was the third year that the Trustees of Royal Ascot had allowed a charity collection to take place at the prestigious meet, with money being raised for the Royal Navy and Royal Marine Charity, ABF – The Soldier's Charity and the Royal Air Force Benevolent Fund.
You can Show your Support for our Armed Forces too, by posting a picture of a military salute using the hashtag #SaluteOurForces on facebook or twitter, adopting a Twibbon as a brilliant visual way of getting behind our Armed Forces and joining our mass coordinated effort of support on Thunderclap.