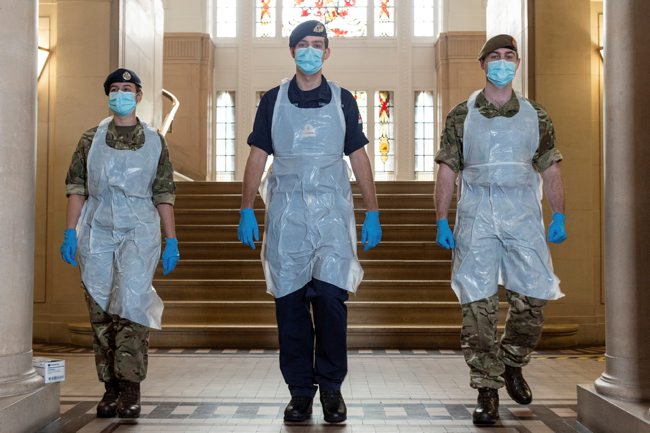 Throughout the pandemic, the Armed Forces have supported a range of MACA requests. These are Military to Civil Authorities taskings – usually used as support to flooding or natural disasters – where the specialist expertise and equipment of the military is utilised to support governments and civil bodies. During the pandemic, this has ranged from driving Ambulances in Wales, to airlifting medical supplies around the Highlands, to building NHS Nightingale hospitals, and even administering vaccines.
The Armed Forces' support over Christmas in testing hauliers trying to cross into Europe was essential for keeping motorways running. Personnel from 36 Engineer Regiment, who had been testing hauliers at the border to Dover, were overwhelmed with donations for the HGV drivers, including 1,000 sausage rolls and 1,000 pies from one company. Members of 36 Engineer Regiment, the Salvation Army and others, re-distributed food packages, which reached families, the homeless and Foodbanks.  Even overripe fruit and vegetables were put to use, taken to zoos for monkey and animal enclosures.
Lance Corporal Dikendra Limbu, a Gurkha soldier deployed on COVID-19 testing in Kent in January 2021, said
"The kind words and general appreciation shown by the general public acted as a catalyst boosting the team's morale. We are able to test up to 800 individuals per day. The whole process is conducted whilst implementing rigid force health protection protocols to ensure the safety of both our workforce and the general public."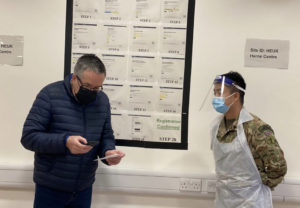 Image of Lance Corporal Dikendra Limbu, assisting with COVID-19 testing.
The work of Armed Forces doctors and nurses has been instrumental in supporting the NHS. Corporal Pen Carless graduated as an Army Nurse after four years as an RAF medic, and her first deployment was in a COVID-19 ward in Royal Hospital Chelsea with ex-servicemen and women. Her second has been deploying in hospitals and administering COVID-19 vaccines alongside NHS staff.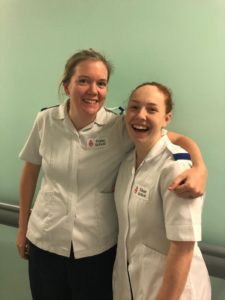 Image of Corporal Pen Carless with her colleague.
Reservists and Regulars alike have found themselves deployed across the UK and beyond to support the government's response to COVID-19. As well as trained medics, there are a huge cast of trades and skills being utilised for MACA projects. These include logistical planners supporting councils rolling out testing programmes, drivers, engineers and musicians who have been deployed to support testing sites, and many more.
One of the winning achievements was the inception of the Mobile Testing Unit at the start of April 2020 which was the idea to set up testing sites in carparks using outfitted vans to allow people to drive through without putting employees or each other at risk. This idea came straight from the military (516 Specialist Team Royal Engineers — part of 66 Works Group Royal Engineers) and was rolled out across the country, making mass-testing much safer and easier.
The Armed Forces have also been supporting the transport of supplies, including tests, PPE and vaccines, to our overseas territories, including the Caribbean, Ascension Islands and Falkland Islands. They also supported the repatriation flights at the start of the pandemic by bringing British citizens home from across the world where they were stranded.
Some individuals have stepped up to work above and beyond. Warrant Officer Scott 'Barney' Barnett, who works at Royal Naval Air Station Culdrose, had an interest in 3D-printing. He challenged himself to make 10,000 face visors to donate to the NHS, which he achieved and exceeded. His 13-year old daughter stitched over 100 fabric masks to donate.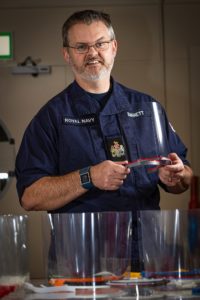 Image of Warrant Officer Scott 'Barney' Barnett with his printed 3D face visors.
Corporal Pardeep Kaur ran a full marathon within her 6-metre patio over two days to help raise money for the NHS East Ambulance Service and raised £1320. Meanwhile, Sergeant Shiv Chand organised online events for faith communities, for example Diwali and Raksha Bandhan, to maintain community and solidarity for faith groups.
Surgeon Lieutenant Commander Mike Hill has been shielding, but wanting to help, volunteered for the LGBT foundation. He says,
"COVID-19 has disproportionately impacted many minority communities including the LGBT+ community. We have set up rainbow buddies, a befriending service to tackle isolation and loneliness, particularly for those who are having to shield isolate."
Due to the uncertainties presented by the ongoing pandemic, the planned Armed Forces Day National Event in Scarborough has been postponed until June 2022.
There are still lots of ways to get involved in Armed Forces Day this year on the Saturday 26 June and lots of other events planned, find your local event here.
This Armed Forces Day join the nation in coming together to celebrate and show our appreciation for all the work that the Armed Forces do.