The Armed Forces Day flag is flying high across the UK as celebrations begin ahead of Armed Forces Day this Saturday (27 June)!
10 Downing Street, Government departments and Local Authorities are flying the flag this week to show their support for the Servicemen and women of our Armed forces, past and present.
Wing Commander Tracey Broome, from the Armed Forces Day team, said:
"It's heartening to see so many local communities, businesses and Government organisations displaying their support for the Armed Forces. It's a great start to the week which will culminate in hundreds of Armed Forces Day events across the country."
Guildford, hosts of this year's National Event, began their flag-raising ceremony with an exhilarating journey by air, on water and over land. Tri-service personnel using an RAF Chinook, Army Foxhound armoured vehicles and quadbikes, and Royal Navy rib boats transported the flag to the historic Guildhall in Guildford's town centre where it was raised.
On Saturday 27 June Guildford are putting on a fantastic show of military displays and live music and entertainment at the National Event. Guildford Council, the Royal Navy, Army and Royal Air Force have pulled out all of the stops to make sure it will be a day to remember.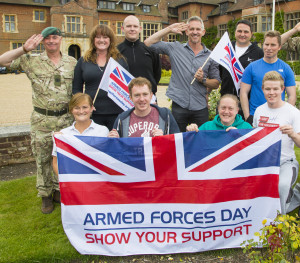 Across the UK Armed Forces Day has been attracting a host of supporters this year from businesses such as BT with a message of support on the BT Tower; Royal Mail with an Armed Forces Day postmark on all mail delivered in the UK on June 27; and National Express with discounted travel to the National Event.
Celebrities and sports personalities, such as Gary Lineker, Sir Derek Jacobi and Lorraine Kelley, have also been showing their support by sending in their salutes.
The public are also being encouraged to Fly the Flag across their social media channels by adopting the Armed Forces Day Twibbon.