All around the UK this week, people are paying tribute to our Armed Forces by taking part in sponsored races, live music, parades and garden parties.
And employers up and down the country are also stepping up. From high street banks and big city corporates to councils and corner shops, companies big and small are building the buzz of excitement.
Here is a quick preview.
For three years in a row, Holt's Military Banking, part of the Royal Bank of Scotland Group, has been a sponsor of the national event. Holt's Military Banking brand, offers tailored banking services to suit the lifestyle of our military personnel.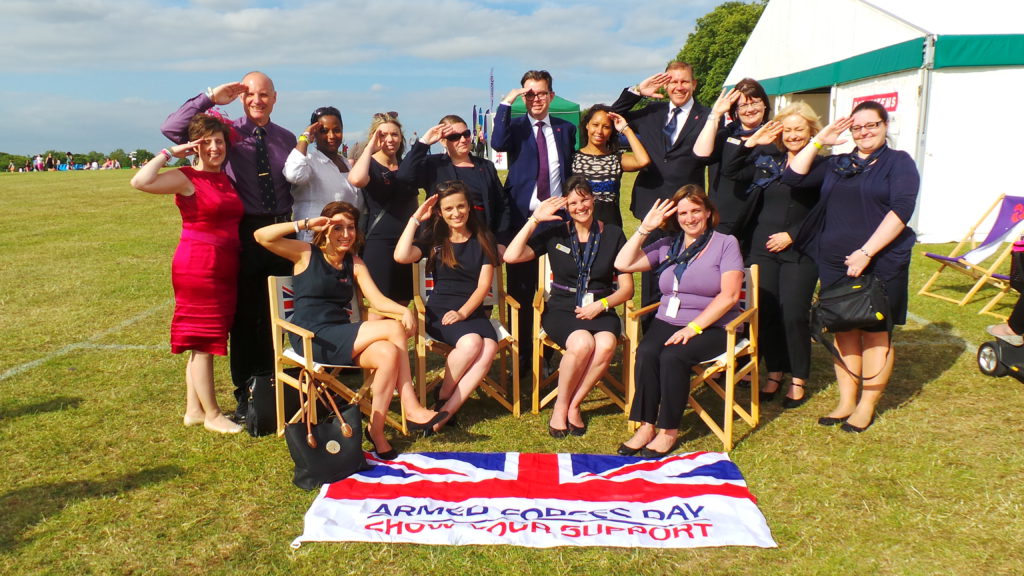 At the national event at Cleethorpes this year, RBS will be flying the Holt's and Union Jack flags above the Holt's marquee. Why not go and meet the  team, enjoy getting your face painted (instead of a tiger or a fairy maybe try out the camouflage look for a change!) and take a look at the Holt's archives and history.
Phil Northey, Holt's Military Banking MD, says:
"With the Holt's Military Banking team, I'm really looking forward to meeting everyone at the Armed Forces Day events. We're delighted to be sponsoring the event yet again this year.

"It is a privilege to serve our military customers wherever they are serving us, and we look forward to joining with them to honour and pay tribute to them in sunny (!) Cleethorpes this weekend."
Look out for some interesting RBS salutes as the best selfies and pictures are going to be tweeted with #SaluteOurForces.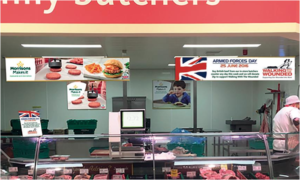 Morrisons supermarkets are also serving up a British beef promotion this week. Between Monday 20 June and Sunday 26 June (inclusive) they will be donating 25p to Walking With The Wounded for every customer purchase which includes beef from their in-store butcher's counter.
Also, until Sunday 26 June (inclusive) Morrisons are offering Defence Privilege Card holders a free hot drink in their customer cafes. This will then be followed by a 10% discount for Defence Privilege Card holders for six months (from Monday 27 June)
Some of their stores will be hosting their local army cadet unit, who will be offering customers a bag packing service to raise money for their local unit and Walking With The Wounded.
And once again Royal Mail is delivering a special celebration for Armed Forces Day. Around a million post items will be landing on doormats on Saturday 25 June with an Armed Forces Day celebratory postmark.  Look out for your envelopes.

Insurance company AVIVA has many events organised across the country. For the whole week, visitors to AVIVA's headquarters in the-state-of-the-art St Helen skyscraper in the City of London and passers by will be getting a glimpse of our Armed Forces thanks to footage and photos of them featured on one of the huge reception screens – thought to be the biggest in the Square Mile. .
Sodexo has a special food offer available at all of their catering sites. For every meal sold on Armed Forces Day, Sodexo will donate 25p to SSAFA (Soldiers, Sailors, Airman and Families Association).  The business is also running a Facebook campaign to encourage flag raising from 20 to 25 June.
Transdev bus company has 1300 staff who are keen to support our Armed Forces. If you're travelling across Lancashire or Yorkshire, the company is offering free travel to any member of the Armed Forces. Check which services are part of the offer and don't forget your ID!
These are only just a few of the ways in which businesses will be celebrating our brave men and women this week.