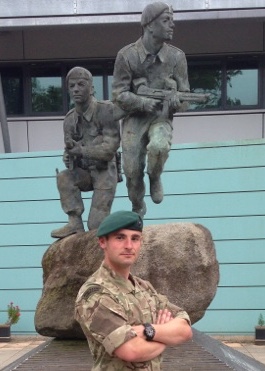 Cambridgeshire based, commando-trained David Norman can boast two careers.
When wearing his civilian suit, as a Council employed project officer, he makes sure that the services supplied by Cambridge City and South Cambridgeshire district Councils are kept up to scratch.
And when he proudly dons the uniform as Lance Corporal Norman, Royal Marine Reservist his striving for excellence takes a different direction. As a detachment commander he is preparing for his Junior Command course. It's another step towards his goal of achieving a commission and giving something back to the organisation he loves, helping other aspirational Reservists to one day wear the green beret.
And the reason he loves it so much is because of the life opportunities it has given him. Opportunities such as deploying to Norway to take part in the legendary Royal Marine Arctic survival training exercises.
At the other extreme of the thermometer he has also been to Brunei to learn about ground sign awareness (spotting those little tell-tale signs left behind by the enemy) and trained alongside United States marine Corps colleagues in the Mojave desert.
"I have been extremely fortunate with the support I have received from my employer," he says, " This has played a crucial part in making the most of being in the RMR."