Saturday's FA Cup final between Manchester United and Crystal Palace at Wembley was a big occasion for three lucky Service personnel.
Petty Officer Phil Eddie (Royal Navy), Lance Corporal Olivia Dixon (Army), and Sergeant Jamie Gibbon-Sissons (Royal Air Force) represented the three Services at the final, won 2-1 by Manchester in extra time.
Their duties included carrying the FA Cup, and the winners and runners up medals, to the royal box, where the trophy was presented.
They were joined in the stadium by the Band of the Welsh Guards who performed the music for the hymn Abide with Me and the national anthem, which are traditionally sung before kick-off, and over a hundred tri-service personnel for the opening ceremony.
Petty Officer Phil Eddie, a Royal Navy weapons engineer, currently based on HMS Collingwood carried the runners up medals to the Royal Box.
Phil, who is also a football referee, said:
It was a once in a life time opportunity that not many people get the chance to do. It was a fantastic opportunity to meet The Duke of Cambridge and take the medals up to the Royal Box with all the fans there as well.

It's great having representatives form The Royal Navy, Army and the RAF take part in the FA Cup Final, and for us to be in the public eye.
Each of the three services that make up the Armed Forces were asked to nominate personnel for the final; they were also able to watch the match accompanied by two guests of their choice.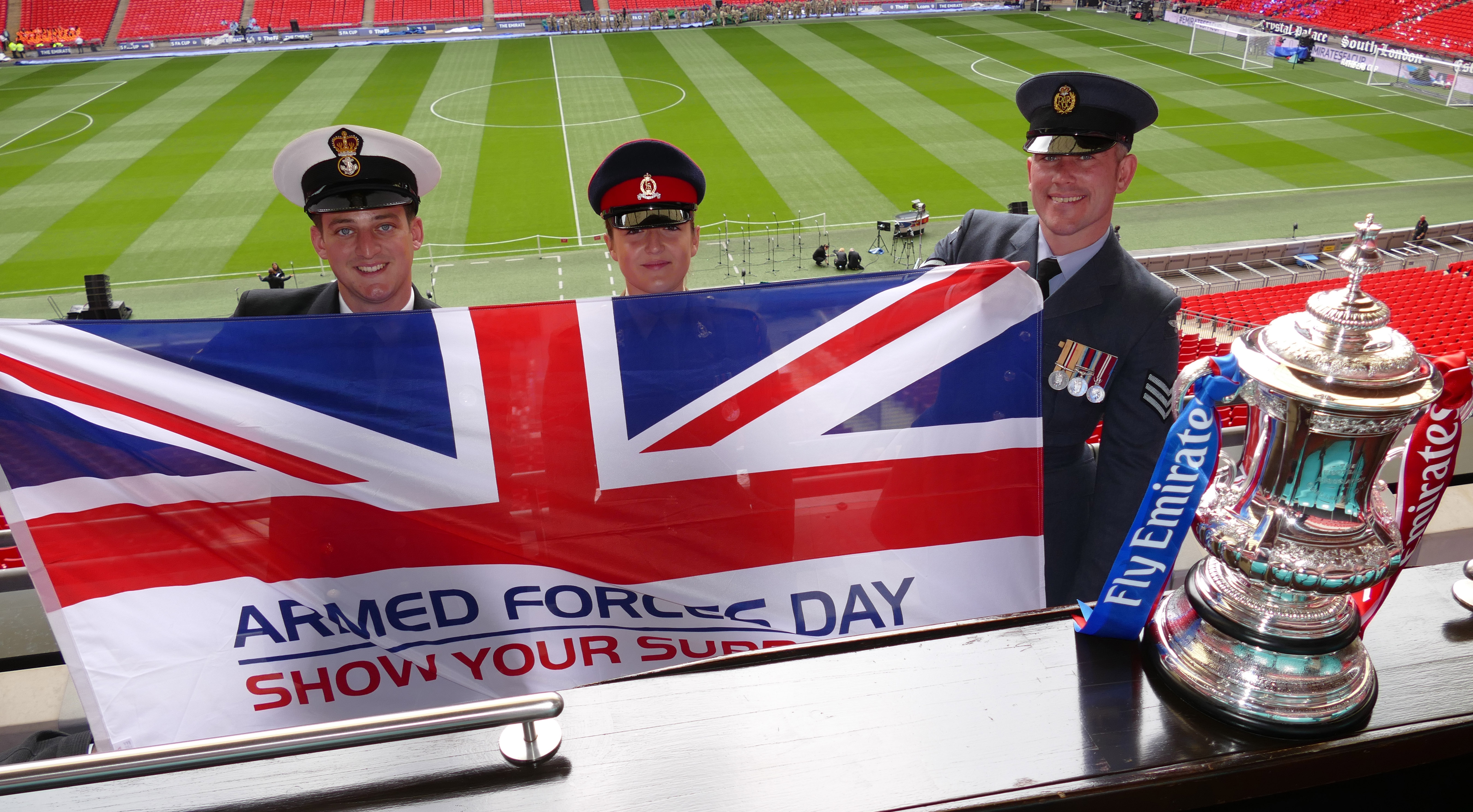 Sergeant Jamie Gibbon-Sissons, who serves with the RAF and carried the Cup itself to the Royal Box, said:
I just wanted to make sure that I didn't drop the FA Cup, once I changed into my uniform I wasn't nervous at all.

It's great that our achievements are recognised, and good for the public to see us. It's a chance for the public to see what the military is about."
Army Lance Corporal Olivia Dixon, who also plays for Ipswich Town Ladies, added:
It was overwhelming to take part in this, a once in a lifetime opportunity. Because I play football, something like this is such a big thing, I had no idea that we could get these kind of opportunities until my name was put forward, I am delighted to be here, it was an unreal experience.
All the service personnel who took part in the final received a massive cheer from the 90,000-strong crowd and performed their duties with the professionalism and expertise the British armed forces are famous for.