Businesses and events around the country are showing their support for military personnel in a number of ways to celebrate tomorrow's Armed Forces Day (Saturday 28 June)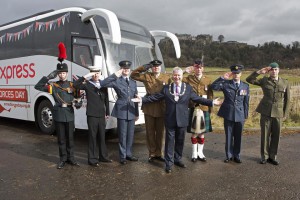 National Express has announced that veterans and Service leavers applying to work for them will be guaranteed a job interview, building on the company's existing commitment to offer interviews for driving jobs.
Tom Stables, Managing Director of National Express UK Coach said: "We're proud to be leading the way in supporting the nation's Armed Forces and we hope our guaranteed interviews scheme boosts the employment prospects of those leaving the forces at a time when they need support the most."
Typically, National Express has between 30-60 vacancies available at any one time and jobs will be advertised online by the MOD's provider of Armed Forces resettlement The Career Transition Partnership. Vacancies currently include driving roles and an engineering manager position at Gatwick Airport.
In another Armed Forces Day announcement, outdoor equipment supplier Cotswold Outdoor is also increasing their discount for Armed Forces personnel to 15% to mark Armed Forces Day.
And for all you tennis fans out there, Armed Forces Day will be marked at Wimbledon tomorrow when the Armed Forces Day flag is raised over the iconic Centre Court, and a round of applause for Service personnel is started by Sue Barker. Coverage starts at 1045 on BBC Two.