Organisations across the country have started this year's Armed Forces Day celebrations by saluting the work and dedication of our Armed Forces with the AFD flag.
The flag has been raised across the heart of Whitehall, with the Ministry of Defence, the Scotland Office and Portcullis House all showing their support.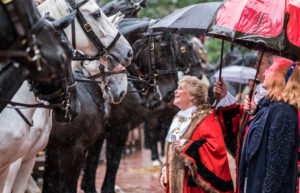 Councils, businesses and public services right across the country have followed suit.
The pouring rain and unseasonal chill did nothing to dampen spirits at Royal Borough of Kensington and City Hall.
We've collected some of the best below – from councils in Gloucester and Edinburgh to Leicester Fire Service, the National Memorial Arboretum, BT, Aviva and the New Victoria Theatre in Woking.
Here's the new Mayor of London raising the flag in Westminster.
Plus many more right across the country: