Next year's Armed Forces Day celebrations will take place in the historic town of Guildford.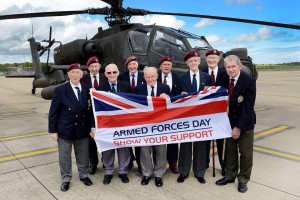 Armed Forces Day is an opportunity for the nation to show its support for the men and women serving in the armed forces.
This year, the flagship event in Stirling gave the public the chance to celebrate the work our military personnel do every day. Next year will see Guildford hosting the annual Armed Forces Day event.
Leader of the Council, Councillor Stephen Mansbridge, said
We are tremendously proud to announce that Guildford has been chosen to host the Armed Forces Day flagship event for the UK next year. Armed Forces Day is an extremely significant celebration, and we are working with our partners to stage a first class programme for the day, worthy of leading the nation in honouring our armed forces.
The Mayor of Guildford, Councillor David Elms, said:
Guildford will be the focus for the whole country and this wonderful celebration will allow local people and the wider community to thank all those working within our armed forces. We expect to welcome tens of thousands of residents and visitors. I hope that everyone enjoys their time with us on this special day.
Guildford Borough Council is currently planning an exciting line up of activities for the public to honour our military personnel.
A service at Guildford Cathedral followed by a formal parade in Guildford High Street and a 'picnic and proms in the park' are just some of the ways in which Guildford plans to make Armed Forces Day 2015 a memorable event.