Safe in the knowledge that there is no dispute over her place on the throne – Her Majesty The Queen has paid a visit to the Game Of Thrones set in Belfast.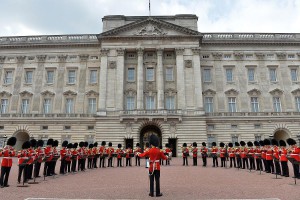 And at exactly the same time as Her Majesty was shown the TV fantasy blockbuster's infamous throne of swords, the Band of the Scots Guards played the Game of Thrones theme tune as they Changed the Guard at Buckingham Palace this morning.
In a whistlestop tour of the new Titanic studios in the old Belfast shipyard, and the old Paint Hall where many scenes are shot, The Queen was given a first hand guide to the work that goes into making a bloodcurdling saga with millions of followers.
The Queen was shown handmade costumes, props and armoury that have helped further the cult-following of the Game of Thrones phenomenon. She was also presented with a miniature replica of the Iron Throne of Westeros – the real seat is said to be coveted by only the most Machiavellian of kings.
David Benioff and Dan Weiss, executive producers and writers of Game of Thrones led the tour through the Paint Hall where the sets for the Red Keep and the Throne Room are housed. George RR Martin's epic story has brought £82 million to the region in the biggest television production in Europe – the equivalent of 900 full-time and 5,700 part-time jobs. The global success of the show is also furthering Northern Ireland's reputation as a premiere destination for the film industry.
Undertaken daily in the Summer Ceremonial Season by one of the five regiments of the Foot Guards, Changing the Guard or 'Guard Mounting' is the process by which the new Guard exchanges duty with the old at the Royal Palaces.  It is watched by hundreds of thousands of visitors a year. The handover ceremony is accompanied by one of the five bands of the Foot Guards, who play traditional military marches, music from films and musicals, and even well-known pop songs.  The Band keeps the marching troops to time and raises morale.  The assembled crowds were thrilled to hear this morning's musical performance and applauded in between taking photographs and filming on a sea of smart phones and tablets.