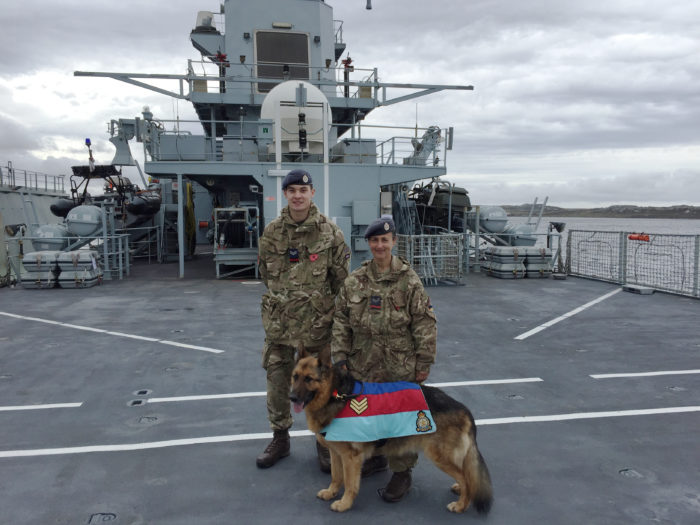 Sharon is a Reservist with the RAF Police, working as a dog handler.
She attested into 614 Squadron in Oct 2015 and soon after joining up and opportunity to travel to the Falklands came up. She left in August 2017 and after an 18 hour flight landed in Mount Pleasant Airbase to take on a role as an RAFP Dog Handler.
"My first impressions of the Falkland Islands were as expected, remote, cold, and very windy, but everyone was very friendly and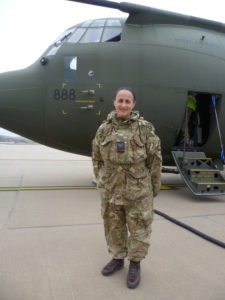 welcoming.  I soon became totally absorbed into the military life and my role, working shifts day and night, patrolling the red areas with my dog Figo"
Sharon made the most of her time there and, joining the gym, Go-Karting on the worlds most southerly track, seeing penguins and visiting Battlefields.
Sharon returned to the UK in Feb 2018.  She said, "The experience and adventure has been awesome and I'm so pleased to have done it experiencing opportunities I would never otherwise have had and memories which will stay with me forever."
614 Squadron is a General Support Squadron with a variety of personnel to support defence at home and overseas. The squadron was reformed in Cardiff after a 57 year absence to provide a hub for reservists in the region. The RAF Police provides the RAF with a broad spectrum of Security and Law Enforcement capabilities both on the UK home base and on deployed operations. The RAF Police conducts criminal and security investigations, and as specialists in Aviation Security, Counter Intelligence, Protective Security, Law Enforcement, Military Working Dogs, Information and Cyber Security, the RAF Police plays a critical role enabling airpower operations globally.