As any working mum will tell you, juggling your time can be tough. Busy lives leave little time for putting your feet up.
Michelle Rowlands knows all about that. In her civilian life she works as a flexible nursing assistant at the Royal Derby hospital, and when she's not doing that, you can find Able Rate Rowlands fulfilling her reservist commitments at HMS Sherwood, the only Royal Marine Reserve unit in the East Midlands. How does she do it, you may ask. She'd tell you it's all about being organised.
"In a short space of time," she says, "my leadership and management skills have increased considerably which helps in all aspects of my life."
Not only that but according to Michelle life as a reservist has seen a huge improvement in her levels of fitness, much better than joining a gym. Cheaper too.
And the new military aspect of life has opened other doors for her, including stable doors.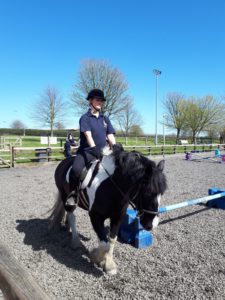 "I can't believe how many opportunities my RNR training has brought me, that simply wouldn't exist in my day job… like jumping into the water to swim with jelly fish at HMS Excellent training school, or riding a horse called Dexter as part of a riding programme."
Her role at HMS Sherwood sees her specialising in logistics, with her crewmates relying on her to make sure there's enough food around for overnight exercises.
"My friends and family have all noticed a positive change in me since I joined HMS Sherwood," says Michelle, "Id encourage anyone with an interest to find out more about joining up. I've gained so much in such a short space of time."