Travelling to the Armed Forces Day National Event will be made easier once again this year with National Express offering the general public a 50 per cent discount, on the cost of travel to Guildford on Saturday 27 June.
Asside form the general public discount the coach company already supports the Armed Forces community in a variety of ways as part of its comitments under the Armed Forces covenant which it signed in 2013 . This includes 60 per cent off all coach travel in the UK, extra annual leave for the company's Reservist employees and guaranteed job interviews for Service leavers and veterans who are licenced to drive passenger carrying vehicles.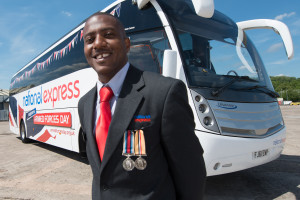 National Express driver Duane Porteous, who served as a driver with the Army's Royal Logistics Corps and completed operational tours in both Afghanistan and Iraq, said:
"It's brilliant National Express gets behind the military and I'm really proud to work for a company that makes it easier for veterans to get back into work.
"Armed Forces Day is a real chance to celebrate the people who dedicate their lives to serving the country. I hope the discount enables as many people as possible to visit Guildford and cheer on our Forces and importantly, have a great day."
To get the discount, members of the public should use the promotional code AFD2015 when booking their journey to Guildford online at www.nationalexpress.com
Tom Stables, Managing Director of National Express, UK Coach said:
"Armed Forces Day is fast becoming an annual highlight and we want to help as many people as possible fly the flag for our Armed Forces. Lots of our drivers are ex-Service personnel and so as well as being the right thing to do, supporting the military really is a natural fit for us. We already offer the UK's biggest discount for serving personnel and we hope our offer helps as many other people attend the day as possible."
Mark Lancaster, Minister for Defence Personnel and Veterans added: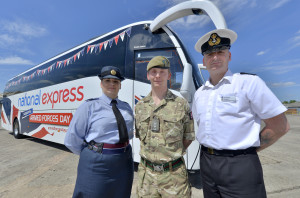 "It is wonderful to see a great British business such as National Express lead the way in bringing people together to mark Armed Forces Day.
"National Express have for years supported the Armed Forces through discounted travel to Service personnel and their guaranteed job interview scheme.
"I would also encourage other businesses to follow National Express's example and do all they can to ensure that the Armed Forces Community are not disadvantaged by military life. "