A new 24 hour service will help veterans access the support they need quickly and easily as they transition from military to civilian life.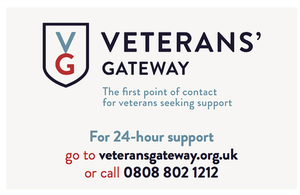 The 'Veterans' Gateway' is designed to help former Servicemen and women of all ages and backgrounds navigate their new lives as civilians.
From advice on housing and finance to help with health concerns, the Gateway brings together the vast range of charities and support on offer, guiding veterans directly to the help they need, when and where they need it.
Backed by £2 million from the Ministry of Defence's Covenant Fund, The service includes 24-hour online chat, phone, and text messaging, bringing the Armed Forces support community together in a single place for the first time – and the service centre, based near Cardiff in South Wales, is manned partly by veterans to help ensure that callers can speak to someone who can understand their experience.