Armed Forces Day is a chance to say thank you to our Armed Forces for the sterling work they do, and last month (February) more than 100 Service men and women were honoured for their service to the country.
Here we take a closer look at three of those awarded for their exceptional bravery: Victoria Cross recipient Lance Corporal Joshua Leakey, Captain William Hall who was awarded the Military Cross and Reservist Corporal Ben Spittle, who was awarded the Queen's Commendation for Valuable Service.
Humble Hero: Lance Corporal Leakey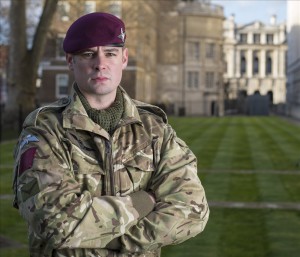 On 22 August 2013, Lance Corporal Leakey single-handedly turned the tide of a Taliban attack by repeatedly running through the heavy fire to man machine guns, preventing considerable loss of life by evacuating casualties and inspiring his comrades to fight back.
When asked about his accolade Lance Corporal Leakey said:
"It's massively humbling to put me alongside other people who have received this award. I'm conscious that there were other men on the ground that day who were doing their job just like everyone does… It is overwhelming. And I think it probably always will be."
Fearless Medic: Captain William Hall
Military Cross recipient Captain William Hall was under heavy fire when a soldier in his patrol was shot and severely wounded. The heavy fire continued and he was momentarily disorientated. Hall made his way to the wounded soldier through gunfire and got him into a ditch and into cover. He proceeded to tend to the casualty while firing on the enemy.
Captain Hall said:
"I was the closest to the casualty – and if you are the closest you react, you go.It's hugely humbling to be singled out. I cant sing praise too highly for the other guys who were there that day. The way everyone behaved, the entire group were phenomenal. I would just hope that its understood that this award reflects how they acted and what they did as well."
Fast-acting Reserve: Ben Spittle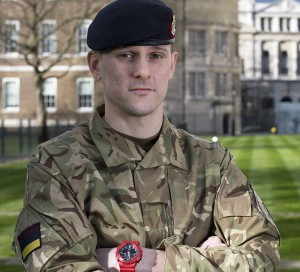 In his civilian life, Ben Spittle works as a paramedic for the London Ambulance Service. In Afghanistan in November 2013, Corporal Spittle found himself at the forefront of treating conflict casualties during his first operation in his first month of deployment. With only his issued medical pack and some rudimentary Afghan supplies to rely upon, Spittle simultaneously treated  a variety of battlefield injuries including: multiple gunshot traumas, catastrophic haemorrhaging, shattered femurs, serious chest wound and compound fractures.
Spittle went on to pioneer and deliver a paramedic training course to members of the Afghan National Army , which became oversubscribed and was subsequently rolled out even further.
"The thing you learn as a medic and you learn it quickly is that when someone really needs you they need you. There's no hiding. There's no waiting for help – you are it; you are the bottom line."
For the full list of Operational Awards go to the Ministry of Defence website.