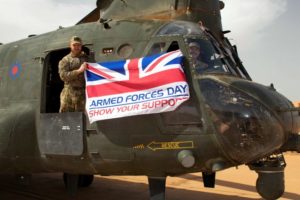 MOD Crown Copyright.
Physical and virtual events were held across the nation to recognise and thank our entire Armed Forces community for everything they do to keep us safe at home and abroad.
On Armed Forces Day, HRH The Princess Royal attended an event at the National Memorial Arboretum in Staffordshire alongside around 100 Service personnel who were invited as a special thanks for their service. Many of those in attendance had been busy supporting the UK's response to the pandemic over the last year. To kick off the event, the RAF's Red Arrows performed a spectacular flypast over the Armed Forces Memorial.
Around the country, local communities and councils organised events to show their support. From flag raising and military stalls, to performances and virtual ceremonies.
In London, we took over the iconic Piccadilly Circus advertising screens with a special thank you message for all those that serve or have served.
MOD Crown Copyright.
Events also took place in the lead up to Armed Forces Day, including a special visit from the Prime Minister Boris Johnson to meet personnel at the New Normandy Barracks in Aldershot.
The Prime Minister said:
"I'm immensely proud that the UK is defended by without doubt the finest armed services you'll find anywhere in the world. Our fantastic men and women in uniform are the best trained, the best led, the most dedicated bunch of people you will ever meet.
"This year we have witnessed the full breadth of what the Armed Forces can do – from being on the frontline in our fight against Covid to work fighting terrorism, delivering aid and flying the flag for the UK internationally. This Armed Forces Day, on behalf of the nation, I want to say a huge thank you for everything you do. We owe you more than I can ever say."
Next year's Armed Forces Day National Event will take place in Scarborough on the 25 June 2022.
Thank you again for showing your support to the Armed Forces community!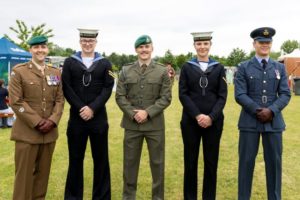 MOD Crown Copyright.