Ahead of Armed Forces Day, we are profiling some of the best and brightest from every aspect of the military, from front line soldiers to musicians, recruits to veterans. On Armed Forces Day, you will see many of the military's top musicians performing in parades and displays, and here's one who's about to begin his career in style.
Talented 21 year old recruit musician Ben Elliott has been hand picked to take part in the in the Royal Marines, Beat the Retreat on Horse Guards Parade today and tomorrow.
Only performed every two years, Beat the Retreat is a pageant of military music and precision drill that began in the 16th century, with 200 Royal Marines taking part.
He said:
I am really excited, with the Beat the Retreat the big thing is that you are in front of a massive audience, and you are part of a massive band, so everything is amplified. It's much greater than anything I have done before.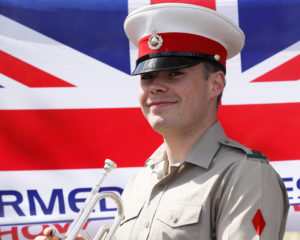 From call centre to concerts
Ben from Truro, Cornwall, worked in a call centre before he was inspired to join the Marines. On his 18th birthday his parents took him to see a Royal Marine Band concert, and that performance was the moment that he decided that military music would be his future.
He said:
Working in a call centre, was just sitting around all day annoying people on the phone, so being in a much more responsible job like this, where everything is taken a lot more seriously with a whole lot more discipline is a totally different experience for me.
The cornet player is still finishing his training with the world renowned Royal Marines School of Music. In his short time in the Service he has already played at several concerts across the UK and has just returned from performing in the Falklands.
After the Beat the Retreat event Musician Elliott will return to complete his training at the Royal Marine School of Music in Portsmouth before passing out and being assigned to one of the Marines' world famous bands.