Saturday's FA Cup final between Arsenal and Aston Villa at Wembley was a big occasion for five lucky Servicemen and women.
They carried out a variety of ceremonial duties during the match, which saw Arsenal lift the cup after a dominant 4-0 win.
Sergeant Adam Fowler (Royal Marines), Chief Petty Officer Samantha Covey (Royal Navy), Sergeant Dipprasad Pun (Army), Captain Sean Birchnall (Army) and Senior Aircraftwoman Rachael Rutherford (Royal Air Force) represented the three services at the final.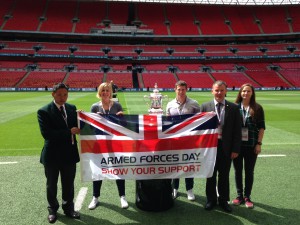 Their duties included carrying the FA Cup onto the pitch ahead of the teams walking out, and then carrying the Cup, the winners and runners up medals to the Royal Box where they were presented after the match.
They were joined in the stadium by the Band of the Brigade of Gurkhas who to mark 200 years of Gurkha Service to the British Army performed the music for the hymn Abide with Me and the National Anthem, which are traditionally sung before kick-off.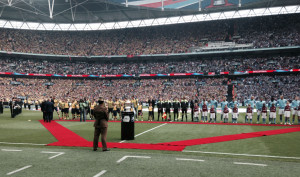 Captain Sean Birchnall, 41, who serves at the Defence Logistics School in Deepcut, carried the Cup to the Royal Box where it was presented to Arsenal by The Duke of Cambridge.
Speaking before the match, Sean, who manages The Royal Logistics Corps football team, said: "I feel extremely honoured and proud to be part of such a prestigious occasion. I have served in the forces for 25 years and to be given the opportunity to represent the Army and The Royal Logistic Corps here fills me with immense pride.
"I have grown up watching FA Cup final day and to now be part of it is something that will live long in my memory. My son Harry is here watching and he is as excited as me.
Sean, who lives in Guildford which will be hosting this year's Armed Forces Day National event on Saturday 27 June, added: "I am delighted and very proud that Armed Forces Day is coming to Guildford. It just allows us to show the public what we can do, their support means a lot to all of us."
Each of the three services were asked to nominate personnel for the final; they were also able to watch the match accompanied by a guest of their choice.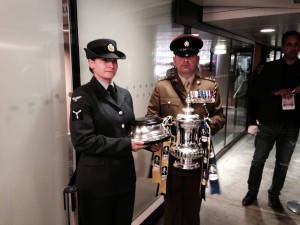 Senior Aircraftwoman Rachael Rutherford, who is based with the Royal Air Force at Brize Norton and carried the Cup base to the Royal Box, said: I'm excited to be part of the event and I'm very proud to represent the Royal Air Force.
"I love football and the atmosphere that it creates. I play football for the RAF and have been to Wembley a couple of times to watch internationals but this was a special experience."
All the servicemen who took part in the final received a massive cheer from the 90,000-strong crowd and performed their duties with the professionalism and expertise the Armed Forces are famous for.