Football legend and Match of the Day host Gary Lineker has joined our campaign to #SaluteOurForces, signing a football to be won by one lucky "saluter"!
On a recent visit to the Defence Military Rehabilitation Centre Headley Court, Gary took a moment to salute his support for our Servicemen and women and help us encourage others to do the same.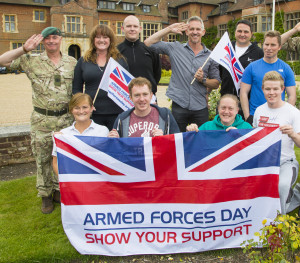 He signed the official football of the FA cup after spending the day learning about the brilliant work that the staff at Headley Court do to help injured personnel recover from injuries.
Gary met patients from across the Armed Forces who were working on their recovery, hearing about their stories and giving them an insight into his own career.
#SaluteOurForces  is a simple way for members of the public to show the Armed Forces they care by sending in an image or video of a salute – we want as many people as possible to get involved.
#SaluteOurForces is part of the annual Armed Forces Day campaign, and to celebrate Gary's salute we're offering the football he signed as a prize.
How to win
For your chance to win the one-of-a-kind signed FA cup football, post a video or image of yourself saluting our Armed Forces on this Facebook post, using the hashtag #SaluteOurForces.
Or if you just want to show your support, you can tweet to @ArmedForcesDay, send a salute to Facebook, or email us at armedforcesdayuk@gmail.com.
For full terms and conditions, see here.