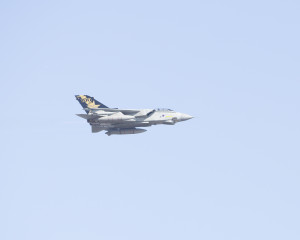 Today (Thursday 17 March) marks just 100 days to go until Armed Forces Day, which takes place on Saturday 25 June 2016.
Preparations for this year's Armed Forces Day national event in the coastal town of Cleethorpes, North East Lincolnshire, are well underway with a spectacular programme of activities including music, entertainment and military displays being planned.
To mark the '100 day' milestone, an RAF Tornado flew over the Armed Forces Gate in Cleethorpes at midday, watched by children from a local school. To get into the celebratory spirit personnel from the Royal Navy, Army and Royal Air Force held a special school lesson for the children in how to salute properly.
Cllr Ray Oxby, leader of North East Lincolnshire Council, said:
"We're extremely proud to have been chosen to host the Armed Forces Day national event for the UK this year. It's a fantastic opportunity to say thank you to our Armed Forces for the work they do.

"The team has been working hard towards bringing what will be a spectacular show to the area. It's going to be a memorable weekend, worthy of leading the nation in supporting and thanking our Armed Forces."
Cleethorpes will be buzzing with family fun with open air performances from a variety of musicians and entertainers throughout the afternoon and early evening on Armed Forces Day.
Exciting military demonstrations will include displays from the Red Arrows, who are based at nearby RAF Scampton as well as demonstrations from the Battle of Britain Memorial Flight, parachute display teams from the Royal Navy, Army and RAF, and the Royal Navy Black Cats helicopter display flight.
With the sea in sight, Cleethorpes will also play host to an array of military vehicles for visitors to explore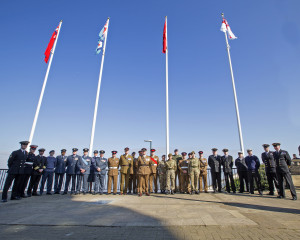 including the Sandown class Mine Countermeasures Vessel HMS Blyth and the AS90 artillery tank and Warrior and Terrier armoured vehicles on the Boating Lake.
Cleethorpes has strong links with the Armed Forces with RAF Cranwell the headquarters of the Air Cadets, RAF Coningsby the RAF's Southern Typhoon Main Operating Base, and RAF Waddington, home to RAF Air Command surveillance and reconnaissance assets, all situated near the town.
Further detail of the national event programme will be added to North East Lincolnshire's website and here over the coming months.
The national event in Cleethorpes is just one of many Armed Forces Day events taking place across the UK from Lochgilphead in Scotland to Jersey in the English Channel. To find an event near you visit the events listing page.
And there's still time to apply for up to £10,000 funding to hold an event yourself. Anyone who wants to host an Armed Forces Day event – from large city-wide parades and local fetes to sports days and smaller neighborhood get-togethers – should contact the Armed Forces Day team by email at armedforcesday-events@mod.uk or by telephone on 020 7807 0970.
The deadline to apply is 15 April, so if you are considering putting on an event there's no time to waste! And don't forget to list it on our events page.