It takes more than seamanship to keep a ship afloat, and every time the Royal Navy sails there are hundreds of people behind the scenes keeping things shipshape. Logistician Amina Johnson is just one of these people – here she talks about her work and how it feels when members of the public #SaluteOurForces.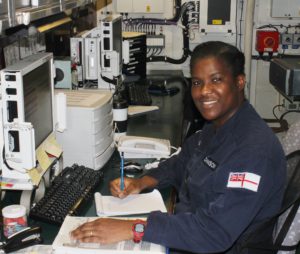 From torpedos to toothpaste – keeping things shipshape
Leading Logistician Amina Johnson from HMS Kent helps to keep her fellow crew members fed, clothed and armed.
Every ship is a floating community and Amina, who lives in Gosport with her husband and 11-year-old son, is a vital link in the supply chain that keeps her ship afloat. From defensive equipment such as ammunition to the everyday basics like clothes and bedding, Amina knows how to source anything her crew needs, anywhere in the world.
Amina's very first seagoing assignment was on the Type 42 Destroyer, HMS Nottingham, in the Middle East and she has travelled the world since then, including two deployments to the South Atlantic. More recently, Amina visited the Orkney Islands to be part of a service marking the 100th anniversary of the Battle of Jutland, one of the most influential sea battles of the First World War.
So many people, of all nationalities, wanted to say hello, shake our hands and express their gratitude for what we do – it was an amazing experience.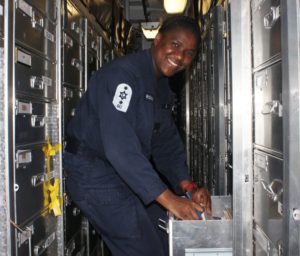 Amina said:
"Being a Logistician, I really enjoy what I do. It's always difficult to leave loved ones at home, but the busy and demanding job and the camaraderie of a warship really helps. Every day is different, it's dynamic, it's important and you meet so many good people.
"The Battle of Jutland commemorations have been a real highlight for me.  Learning about the history of the battle and the significance of it in WW1 has been fascinating, and at the same time being part of the centenary has been such a humbling experience.  To think of the thousands of people that took part and how many lost their lives, many will have been younger than me and some with little experience of both life and the Royal Navy. 
"I've always loved my career and happily told my friends and family what I do, but it was during the commemorations that I was made to feel incredibly proud to serve in the Royal Navy.  A few of us had a tour of Edinburgh Castle whilst we were in Leith, which we did wearing uniform.  So many people, of all nationalities, wanted to say hello, shake our hands and express their gratitude for what we do – it was an amazing experience."