From discounted travel to donations to Service charities, businesses across the country have come out in force to show their support for our Service personnel past and present this Armed Forces Day.
With celebrations just days away on Saturday 27 June, BT, Vodafone, Tesco, Asda, National Express and the Royal Mail are among the biggest businesses supporting our troops and making exclusive offers, help or discounts to celebrate Armed Forces Day.
BT will be saluting our Forces by lighting up the iconic BT tower in London with a message of support for everyone to see on Saturday 27 June. A helicopter from the National Police Air Service  captured the message of support illuminating the London skyline on our behalf in a trial run earlier this week.
The message displayed on the BT tower will read "Show Your Support: Armed Forces Day 2015" followed by our popular hashtag, #SaluteOurForces. It will be seen right across London, lighting up the city skyline on Saturday as the country celebrates Armed Forces Day.
At the same time, letterboxes across the country will receive millions of Armed Forces Day messages courtesy of the Royal Mail's postmark initiative.
Supermarket chain Tesco is flying the Armed Forces Day flag, and holding "Heroes Breakfasts" for Service personnel in Colchester, Sandhurst, Portsmouth, Catterick and Tidorth. Heroes Breakfast packs including sausages, eggs, bacon and beans will also be sold in many stores, with a £1 donation from every pack going to a service charity.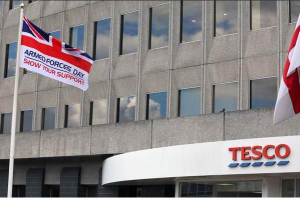 Telecomms provider Vodafone will be attending Armed Forces Day events, encouraging people to take a #SaluteOurForces selfie, and have introduced an up to 20 per cent discount to all serving and former members of the Armed Forces and their families.
Asda stores will promote Armed Forces Day with instore posters and host charity collections, and travel provider National Express are offering discounts to anyone travelling to the Guildford National event.
These are just a few of the great actions being taken by businesses across the country. Watch out in your area for local deals.